,Decription
4:1 middle coat material is a two-component, thick-coated mortar typehigh-performance general-purpose epoxy floor coating material composed of epoxyresin and modified amine curing agent.
Feature
1) Easyinstallation, low cost.
2) High adhesionto the primer.
3) Thick coatavailable.
4) Excellentadhesion to topcoat.
Application
Scrape by Plastering trowel
Package and Storage
Packing:25kg/set( 20kg group A, and 5kg group B)
Stored in a cool, ventilatedand dry warehouse, keep away from fire and heat sources, and keep waterproof,damp proof and light proof.
Storage period: six monthsfrom the date of production. More than the storage period, the test cancontinue to use.
Installation
1) Open, and mix with silica sand or powder,apply by Plastering trowel
2) It takes 0.2-0.5kg/㎡,When the outdoortemperature is above 35℃and below 5℃, it is not recommended to do the construction.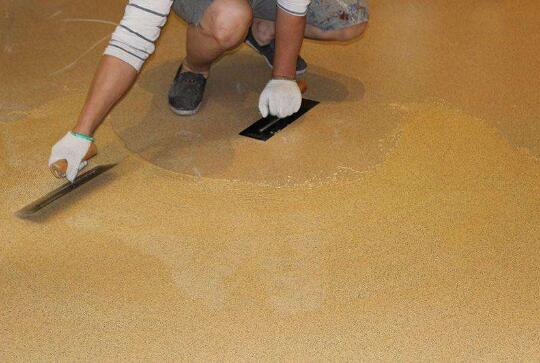 Note
1) When application ,it suggest to be adjusted with silica sand or powder to improve the hardness and flatness of the ground.It can form a mortar layer,with excellent mechanical heavy load strength.
2) The uncuredmaterial should not touch the skin for a long time. If you accidentally enterthe eyes, rinse with plenty of water and go to the doctor in time;
3) Thisproduct is a chemical product. It is forbidden to be eaten. It is forbidden tobe implanted in the body, so as to avoid child contact.
4) In case of fire, it is recommended to use powder, carbon dioxide or foamfire extinguishing agent. Firefighters should be protected.