Decription
Full PU Athletic Track is a solvent free self leveling,two component polyurethane material with good elastic,tensile strength properties,environment friendly ,good elastic ,high strengthen,colorful and easy ,safe to construction.
Structure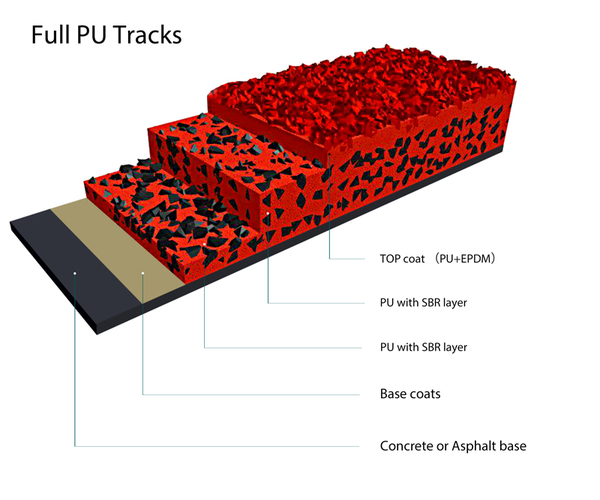 Feature
1. Simple design matches any style of sport court.
2. It is suitable for all the year round
3. No bubble, no seamless
4. Wearable,dense and elastic surface
5. Weathering resistant and anti-ultraviolet
6. Waterproof and anti-slip
7. Bright colors ,soft gloss
8. Easy application and economical
Composition

Item
Layer
Thickness
Materials
1
Base
30mm (Asphalt)
Asphalt
2
Water proof layer
0.5mm
Primer
Cement
Silica sand
3
PU layer
10mm

SBR rubber granule
PU material
4
Top Coat

3mm

EPDM rubber granule
PU material
5
Marking line


PU marking line material
Maintenances

1)Don't allow wearing spiked shoes, highheels, recycled rubber soles shoes and other clear water chestnut soles 。
2) No Smoking Cigarette butts, chewing gumor sugary drinks.
3) Prohibit all vehicles driving on thebasketball court to avoid mechanical shock and friction.
4)Avoid contact with organic solvents,chemicals.
5) Keep clean, you can rinse with water,sticky oil can be 10% ammonia or detergent scrub clean.
6)Seasonal maintenance, large-scalecleaning should be conducted twice a year, it is recommended to usehigh-pressure hose to flush the entire site. Winter snow must be promptly broomsweep. If freezing, prohibit the use of hard shovel pry, it should be allowedto melt.